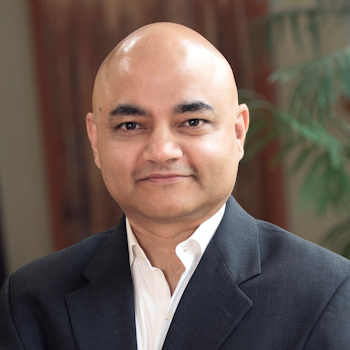 Rajeev is a senior technologist with over 20 years of development, technical architecture, IT strategy and implementation experience. He has held various technical and leadership roles to manage and implement internal and e-commerce projects for leading companies in US and France. He is a trusted partner of the senior executive leadership team to implement the business vision and strategic initiatives with cost effective yet flexible solutions.
Rajeev has assisted Clients in a variety of industries, including Services, Packaging, Shipping/Logistics, Retail, Distribution, Health/Medical, Financial Services, Distribution, Government, and E-Commerce organizations.
Rajeev is passionate about improving the development process through the use of Agile techniques, and conducts Agile training and coaching.  He has coached several large companies on Agile development to improve collaboration, increase project velocity and successfully trained teams to be high performing teams.
He has also been a pioneer, creator and manager of enterprise standards to streamline all aspects of the Systems Development Life Cycle.  He has managed large geographically distributed teams of 80+ resources including senior managers, technical leaders, business managers and technical architects, including turning around failed projects.
Rajeev has an in-depth experience in digital strategy, software selection, assessment, architecture, implementation, delivery, project management and production support of web sites, back-end systems, BI and databases.  He has evaluated, selected and implemented various new technologies like Mobile Apps, DevOps, Cloud, BRE, ESB and MDM. He is well-versed on web technologies, mobile technologies, and social media.
Rajeev has an MBA in Finance and IT Strategy from the Carlson School of Management, University of Minnesota, as well as a Bachelor of Science in Computer Science from India.